My "Bears in Love" Series
Mar 09, 2020
Sometimes, when I'm beginning a new painting, I wonder what I'm going to paint. I may have an idea, but mostly, I think of something that caught my interest and wait for images to appear. Usually, ideas for images feel as though they come through me rather than from me.
For example, my Bears in Love series was inspired by art h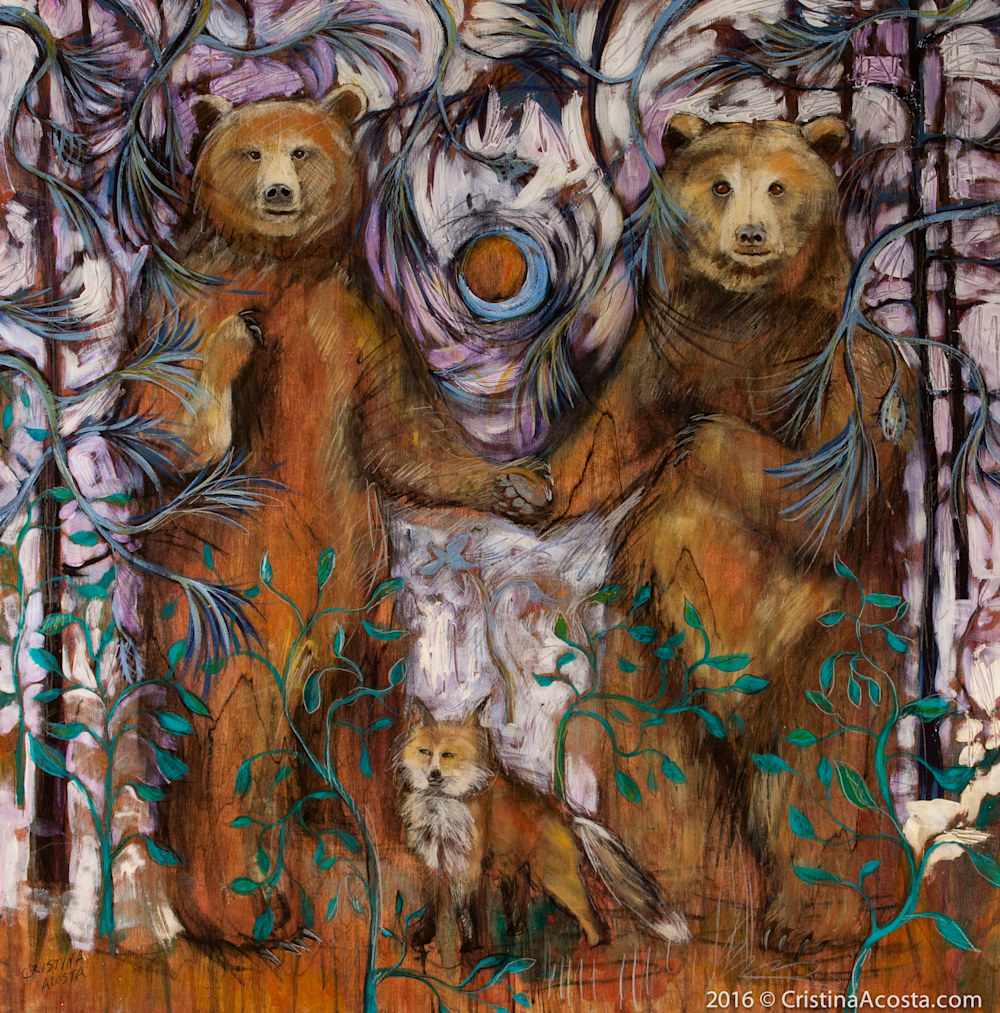 istory, specifically one particular painter in the 15th century, Flemish painter, Jan Van Eyck. His painting, The Arnolfini Wedding Portrait, which he painted circa 1434 is my favorite of his work. Though I've yet to see the painting in person, the image is in H.W. Janson's, "History of Art", a standard tome for most any 20th century art student. I saw my first copy in 1980 and it lodged in my vision.
The first painting I did in homage to Van Eyck is titled, "Bears in Love in the Moonlight with a Sierra Nevada Red Fox", it's a favorite because I love it. (Sometimes, I fall in love with an image as I'm seeing it come up during the creative process.) And, I love dogs. I replaced the little dog in the original with a fox indigenous to the Lake Tahoe, California, mountain area. It was a lot of fun to think about the original 400+ year old painting as I created this image, and see what played out from my hands.
The second image is of two bears holding hands while standing in red willows. Titled, "Bears in Love, Anniversary in the Red Willows." For many years, one of my favorite run/walk trails was along the Deschutes River near my house in Bend, Oregon. I imagine those bears, standing in the willows in the wintertime, the snow and low ceiling of sky, white behind them.
My third image in this series is "Bears in Love Dancing in the Mules Ear Flowers". I'd traveled with my love to the Grand Tetons when the bloom of mules ear flowers was a full yellow profusion. I like how the bears are enjoying their time in the meadow of flowers, just as we did.
New images are coming to me for this series, but they are in a queue with a few other ideas in front of them. I"ll be sure to post when I get the next image done.
NOTE: all paintings are sold. The originals are 36" x 36" - Mixed media acrylic paint with charcoal, graphite and pastel on birch panel with epoxy resin containing UV inhibitors.The images are available as prints. I hope you enjoy the collection.