La Conquistadora , Corn Maiden, Spider Woman Dine, Our Lady of Conquering Love
Mar 01, 2020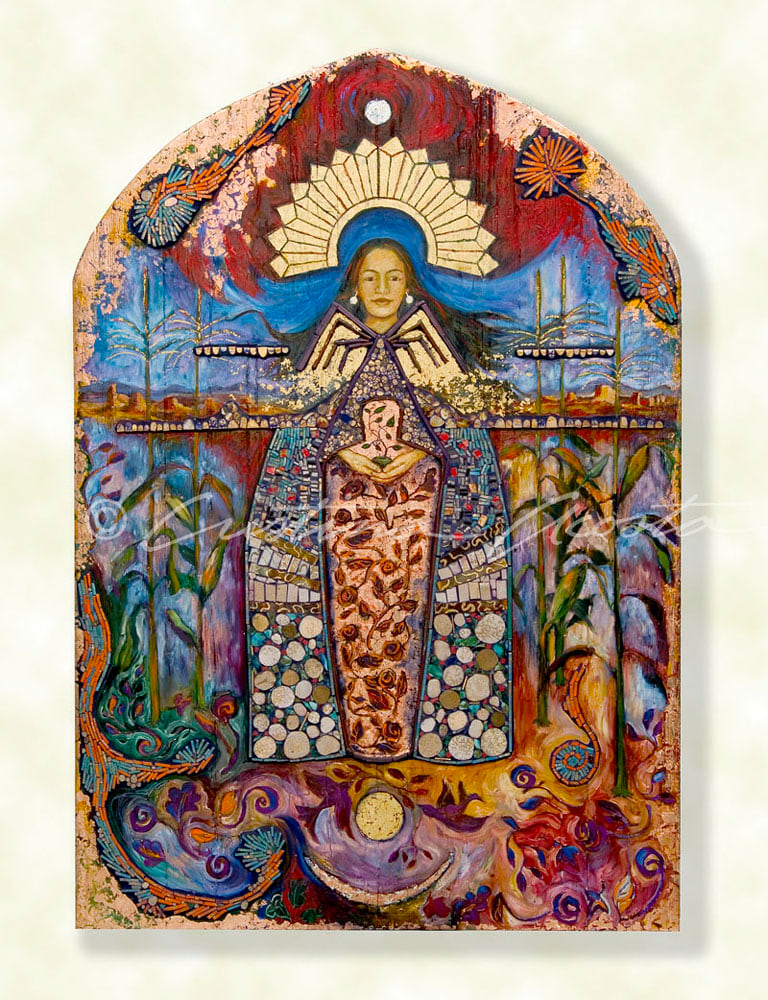 I came in contact with Amy Remensnyder when she researching her La Conquistadora book. She had found my ex-voto retablo titled, La Conquistadora / Dine Spider Woman / Puebloan Corn Maiden. Amy interviewed me regarding my inspiration and intent creating the image. Her passion for the subject of the Virgin Mary as La Conquistadora supported by scholarly discipline and historical clarity makes Amy G. Remensnyder's new book, La Conquistadora - The Virgin Mary at War and Peace in the Old and New Worlds, the current masterpiece and go-to book on the subject of La Conquistadora, New Mexico's patroness and the oldest Marian figure in the United States.
Here's an excerpt from Remensnyder's Introduction: (The image is on page 367 of her book, La Conquistadora - The Virgin Mary at War and Peace in the Old and New Worlds)
"This exploration of the passions that Mary aroused centuries ago is written in the hopes that modern historian, as well as people of other faiths or of no faith, might better understand historical circumstances in which people of diverse cultures and religions lived in proximity It asks how the language of the sacred could both underscore potential differences between people and help to smooth out those very differences. While the answers of men and women of the past bear the stamp of their times and places, there is much to be learned from their successes and failures, for these same questions starkly face our own world."
Remensnyder also included selected passages of our interview. Here's an excerpt:
".....For a bold contemporary artist like Acosta, she offers a space for thinking about genealogical mestizaje.
Acosta explains that her own ancestors "were among the original Spanish colonist in the Southwest." She even grew up hearing her grandmother "continually claim to be pure Spanish." But Acosta confesses that she has come to regard her grandmother's words with skepticism. She describes something that she says her grandmother knew well: her grandmother's son - Acosta's own father ' "made Indian regalia" and would dance the "old dances." It was in memory of her father, a man who danced in Indian dress yet was the son of a woman who boasted undiluted Spanish blood, that Acosta created her Conquistadora....."
There is more. During the ensuing time since our interview, my DNA test confirmed: my grandmother had significant American Indian heritage. I feel like that intuitive knowledge informed all of my life. My conviction at the age of 5 that I was an Indian (I was just sure of it) was finally confirmed. But I did not paint my image of La Conquistadora from confirmed facts and historical accuracy, I painted her from my intuitive self and my sense that this Marian figure needs to have an image of her created that melds the American Indian female sacred figures with the Spanish (European) Marian figure, into a vision of parity. That parity that I feel in my blood regardless of the "blood quantum" restrictions and perceptions that are used to justify behavior.
I highly recommend this book, it is wonderful:
La Conquistadora - the Virgin Mary at War and Peace in the Old and New Worlds, by Amy G. Remensnyder, Oxford University Press, ©2014, ISBN 978-0-19-989298-3, 978-0-19-989300-3